Beds
Hybrid Mattress
Memory Foam Mattress
Please select your fabric
Boucle
Chenille
Cotton
Eco Recycled Velvet
House Linen
Linen
Mottled Velvet
Royal Velvet
Velvet
Wool
Please select your colour
Black

Blue
Brown
Cream
Green

Grey

Orange
Pink
Red

White
Yellow
Single
Small but mighty- make a single bed the centrepiece of your bedroom.
Upholstered single beds perfect for smaller spaces. Just because its smaller doesn't mean it shouldn't be the centrepiece of the room. With natural linens and statement velvets we've got something for every room.
Single Bed with Mattress
Complete your single bed with a foam or hybrid mattress. Order today to be sleeping soundly in your new bed in tomorrow.
Get your Swyft Mattress here
Make a Statement with an Upholstered Single Bed
Choose between linen and velvet in a range of colours to make your bed the centrepiece of your bedroom. Whether you go for a winged headboard or pulled-button detailing is up to you.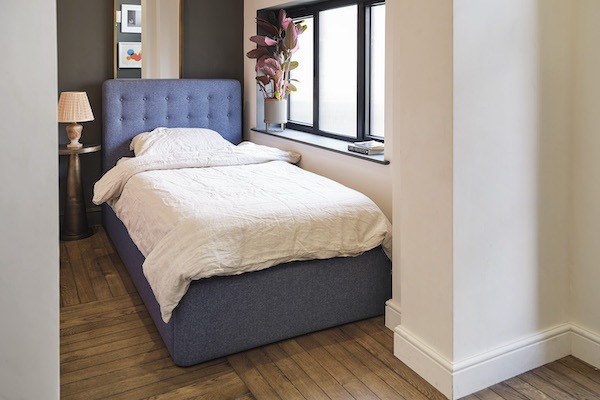 Single Bed Frames Delivered Tomorrow
Order today and sleep in style tomorrow with free 24 hour delivery. Like all Swyft products, our fabric beds come in boxes that are guaranteed to fit through the tightest of entranceways and can be assembled in minutes with no tools needed.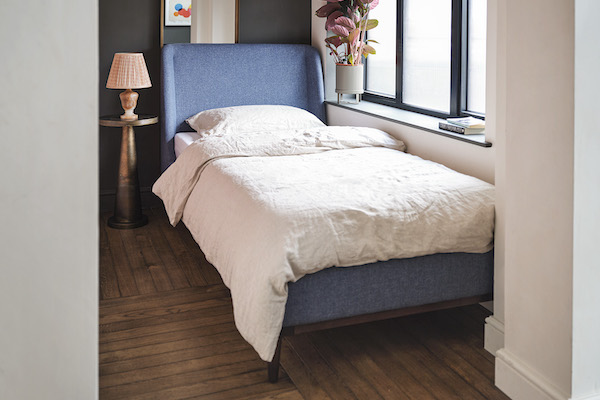 Free 24 hour
delivery
Delivered when
you want
100 day
trial
Single Bed FAQs
Unsure if a single bed is right for you? Check out our FAQ's.
What size is a single bed?

A UK single bed is 3 foot by 6 foot 3 inches, or 90cm by 190cm.

Are single beds for adults?

For the average adult, a UK single bed works just fine. Choosing a single bed for your room helps save precious floor space- especially useful if you've got a small space to furnish. If you're particularly tall, or just want more room to stretch out at night, consider a double.

Is a single bed the same as a twin?

Not quite. The term twin refers to two single beds in the same room, a common setup for hotel rooms.

How do you dress a single bed?

When dressing a single bed, the accessories are up to you. Have a think about what it'll be used for and how often. If it's a spare room bed, it's best to keep it simple with cushions and throws to keep the laundry loads down. If it's for everyday use, go for it! Folding the duvet about quarter of the way down makes a single bed look fuller. Add a simple throw at the bottom and a few cushions that go with your vibe for the room.

How many pillows should be on a single bed?

We'd recommend two pillows on a single size bed for a smarter, finished look. It's nice to have the option of removing one pillow if not needed, whilst the two will make sure the bed looks neat and tidy.