Orange Armchairs
Orange armchairs are bold, there's no doubt, but that shouldn't discourage. If anything its boldness should be embraced. Not only are there a wash of orange shades to choose from, but we offer a wide collection of orange armchair styles. From mid-century to contemporary, sophisticated to laid back. There is one for every room in the house, literally.
What shade of orange will you choose?
With five shades of orange; Brick, Paprika, Bronze, Tan and Henna, which one will you choose? Each colour offers a different colour way, complimenting a wide range of palettes. Order you free swatch today to try for yourself.
Order your free Swatches
Orange Velvet Armchairs
Orange velvet armchairs are sumptuously soft and will add a touch of sophistication to your home. Despite what many think, velvet is incredibly easy to maintain, and if looked after, is a fabric that will last the test of time. Orange velvet armchairs are guaranteed to turn heads, look stylish and add a pop of colour to you interior.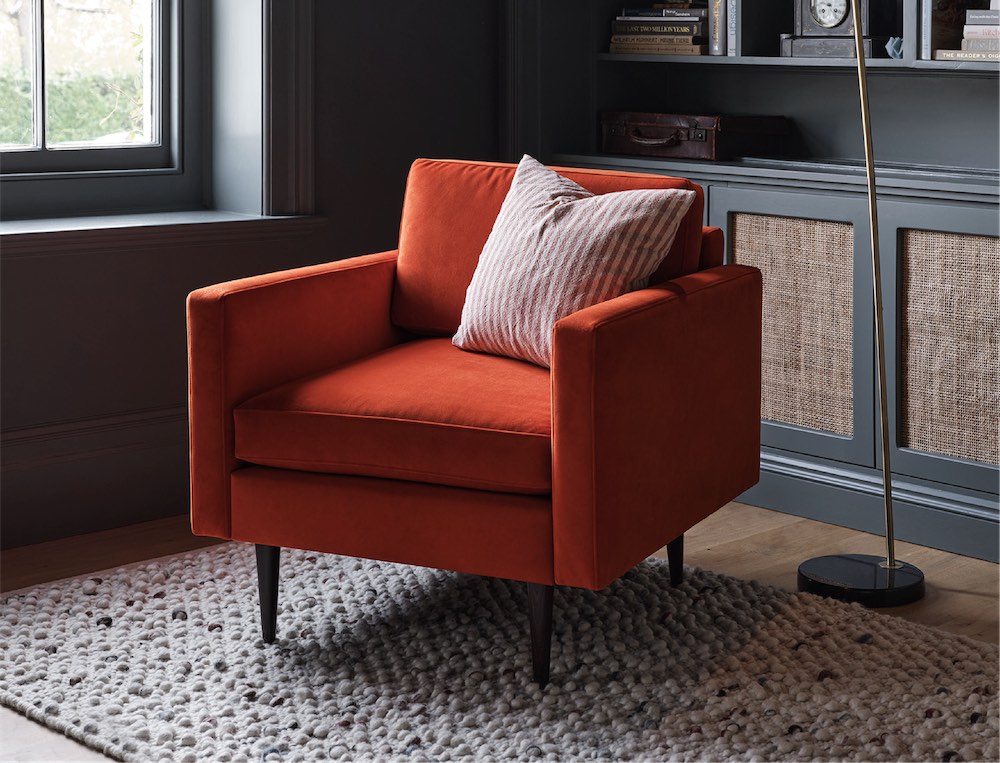 Orange accent chairs and loveseats
Orange accent chairs and loveseats are the perfect addition if you're looking for an armchair alternative. Our orange loveseats are 1.5 seaters, ideal for solo surfs or cozy cuddles. And, our orange accent chairs will help create a bold nook and add a point of interest.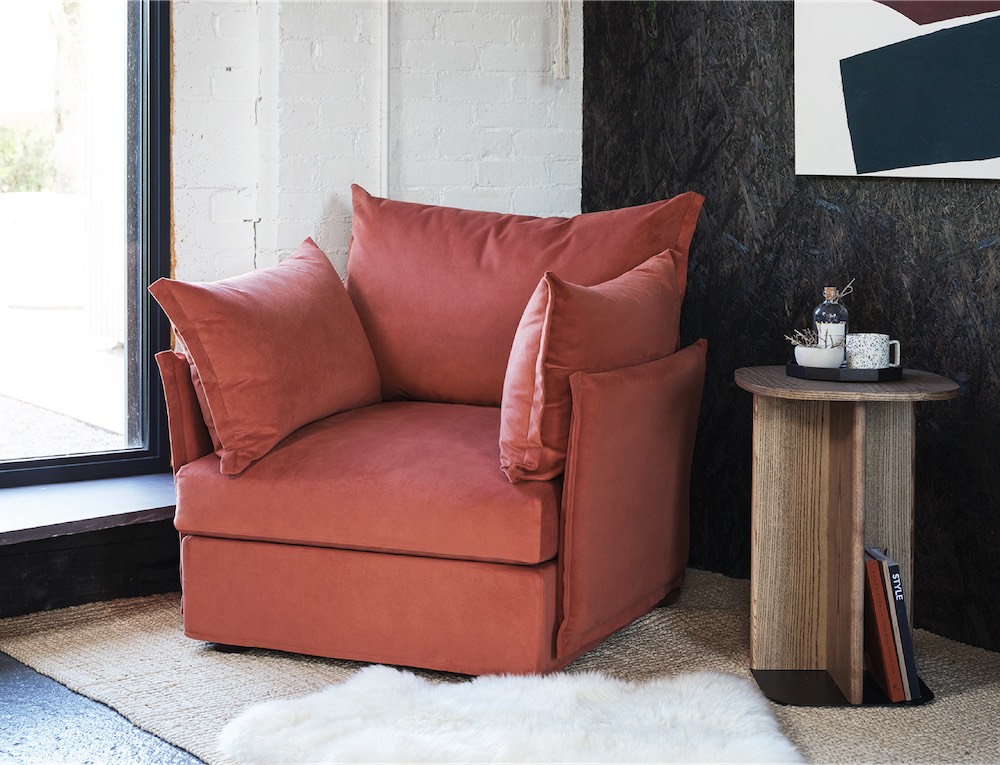 Free 24 hour
delivery
Delivered when
you want
100 day
trial
Orange Armchair FAQs
Worried about going bold? Don't worry, all of your orange armchair concerns answered below:
What colour goes with orange furniture?

Firstly, earthy colours compliment orange, creating a blended, warm and intimate feel. Secondly, neutral colours work beautifully with orange. Choose light greys and creams to help balance the room and bring a sense of calm. Lastly, colours that contrast orange, like purple and green, will add a spice of personality and eclectic to the room.

What shade of orange is best for an armchair?

It's mostly personal preference, but if we had to choose: Tan, Henna, and Brick. Burnt orange aka Brick creates warmth that evokes a cosy aesthetic. Coral aka Henna is a pastel for a more sophisticated ambience, whereas Terracotta aka Tan is an earthy, natural and rustic, again, for warmth. Whichever shade you choose for your orange armchair, you won't be disappointed.

Is orange a good colour for interiors?

Orange is a great choice for your interior. It creates a warm environment to relax in whilst adding personality and points of interest. Its eye-catching nature will promote a stimulating interior, which can be paired with neutral textures, a natural colour palette, or a maximalist scheme. An orange accent chair or armchair is the perfect place to start when introducing the colour to your home.

Why is rust so popular in interiors?

Rust is often seen as a timeless colour that is versatile in nature. Its warmth can be paired with earthy tones to create an inviting environment. It also evokes a sophisticated look and a rustic and vintage feel, depending on how it's paired with home decor. We'd recommend starting with a feature piece, like a burnt orange armchair, to see how it works with your current colour palette.