Please select your fabric
Boucle
Chenille
Cotton
Eco Recycled Velvet
Faux Leather
Linen
Mottled Velvet
Royal Velvet
Suede
Velvet
Wool
Please select your colour
Black

Blue
Brown
Cream

Green

Grey

Orange
Pink
Red
White
Yellow
Modern 3 Seater Sofa Beds
Our modern 3 seater sofa beds provide a comfortable night's sleep for guests and can then turn back into a sofa in no time. If you live in a particularly small space, such as a studio flat, then they're also ideal as a permanent sleeping solution. Our collection comes in a wide range of popular colours, from neutral light or dark greys to bolder blues, greens and oranges to suit your space.
3 Seater Fabric Sofa Bed
Get guest-ready with a 3-seater sofa bed in your choice of fabric. Explore inspiring options for your living room or guest bedroom that fit your interior style. Choose from bold colours, to neutrals, and everything in-between. Discover different textures in woven linens, soft velvets, faux leather and more - it's your space to play with.
Order your free swatches
Double Sofa Beds for Small Rooms
All of our 3-seater sofa beds are the equivalent size of a standard double bed, making it ideal for couples to share - or to snuggle with your dog after a long day. Our sofa bed dimensions measure at W 208cm x H 86cm x D 94cm, which means they're perfect for smaller spaces. And, with their clean and simple mid-century design, they'll always look sleek and stylish.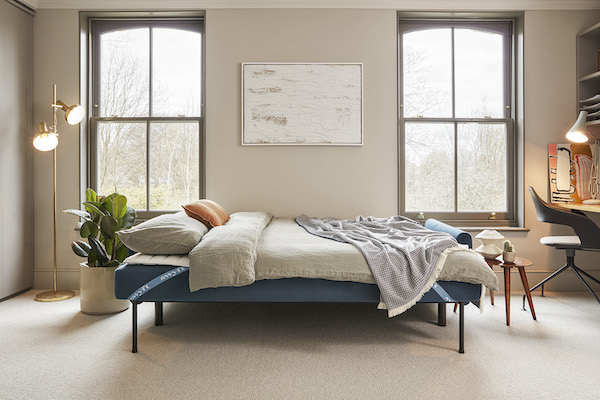 3 Seater Sofa Bed
The sofas bed that doesn't look like a sofa bed. Surprise your guests by turning this 3 seater sofas into a double bed in minutes.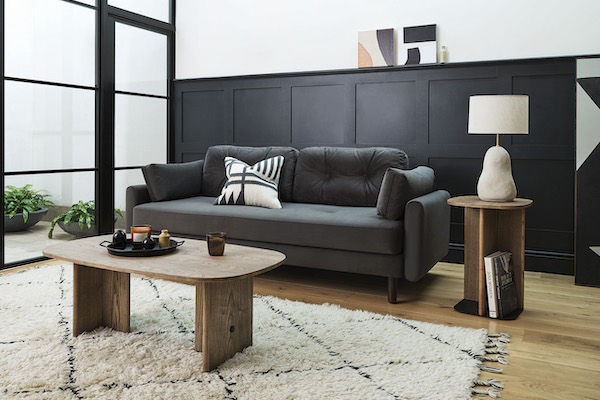 Free 24 hour
delivery
Delivered when
you want
100 day
trial
Model 04 Sofa bed FAQs
A few more questions until you can get a good night sleep? See if our FAQs can help
Can you sleep on a sofa bed every night?

If needed, it's ok to sleep on a sofa bed for a one-off continual period of time. Long-term persistent use of a sofa bed to sleep on isn't advised, though. The best option for everyday use is a normal bed frame and mattress, for the highest level of support whilst you sleep. Read more on sofa beds for regular use in our blog.

How long should a sofa bed last?

This really depends on how much use its getting. Is if hiding away in a spare room or used as the main sofa? From years of spontaneous sleepovers to lots of Sunday lounging, at Swyft we believe your sofa bed needs to stand the test of time. We've made the Model 04 sofa bed with durability in mind, which is why we offer a 15-year frame guarantee.

How big is a 3 seat sofa bed?

Most 3-seat sofa beds are around 208cm in length - an ideal size for living rooms and spare bedrooms alike. When transformed into a bed, our Model 04 sofa bed gives your guests 135cm of width to snooze on - that's about the same as a standard UK double bed.

Do you need special sheets for a sleeper sofa?

All sofa beds can be used with the same duvets, duvet covers and pillowcases you'd use on any other bed. However, when it comes to the bottom sheet, it's worth checking the size and shape of your sofa bed to find a suitable fit. This could mean choosing between a top sheet (flat, without elastic), or a traditional fitted sheet (with elastic corners). The Model 04 is the size of a standard UK double bed which makes this easy.