Chaise
Corner Sofa
Sofa
Sofa Bed
2 seater
3 seater
4 seater
5 seater
Faux Leather Sofas
Discover a timeless look for your living room with faux leather sofas that are not only elegant but durable too. Create a homely feel with brown leather sofas that feel soft to the touch and are perfect for putting your feet up on.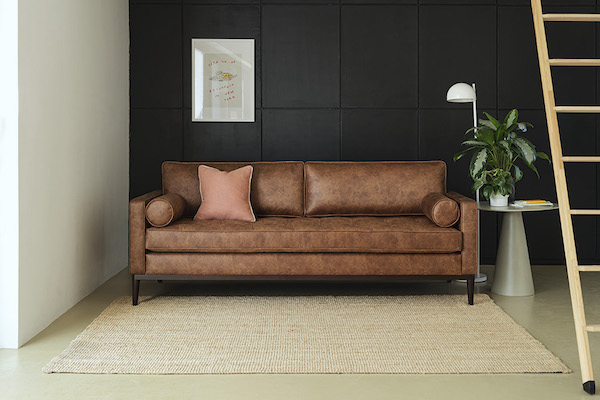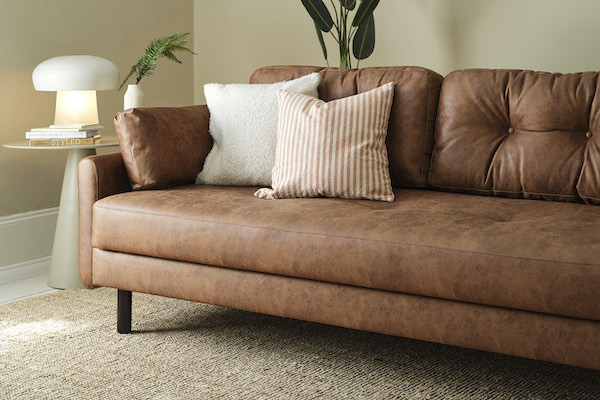 Brown Faux Leather Sofas
Our upholsterers have carefully selected our faux leather for its durability and performance. Swyft's Chestnut Faux Leather looks, feels and performs just like that of a high-end hide. Experience it for yourself by ordering your free swatch box.
Order your free swatch box today
Modern Leather Sofas
Whether you're after a leather sofa bed for snoozing, or you're looking for a modular leather sofa for your next living room statement piece, the fabric is a classic choice that brings a touch of elegance to all interiors. Choose from faux leather across sofas, sofa beds, corner sofas and more.
Faux Leather Sofas with Next Day Delivery
Why wait? Get your dream leather sofa sooner, thanks to super speedy 24-hour delivery. Discover a modern leather sofa that's built to last, assembled in minutes, and guaranteed for 15 years. Your living room makeover can come sooner than you think.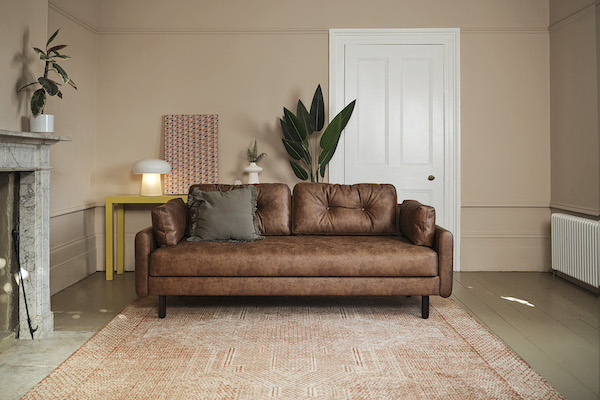 Free 24 hour
delivery
Delivered when
you want
100 day
trial
Faux Leather Sofa FAQs
Is faux leather good for a sofa?

Faux leather combines classic style with durability, for sofa styles that make an impressive statement. At Swyft, our faux leather sofas perform and feel exactly like the real thing, without the need for real hide. The result is a beautiful perch that's timeless in style, and long lasting.

How long does faux leather furniture last?

We use the industry standard Martindale abrasion test to make sure all our faux leather sofas stand the test of time. Boasting a score of 45,000, you can be confident in the knowledge that Swyft faux leather sofas and sofa beds will hold up to whatever life throws at them.

Is faux leather real leather?

In short, no. Leather is derived from animal hides, most commonly from cattle. Faux leather, on the other hand, is a man-made product which is often made up of a combination of strong cotton fibres, with a layer of PES (Polyester) that helps protect from wear and tear.

Is faux leather durable for dogs?

Yes- faux leather sofas are a great practical option for dog owners. Thanks to their soft surface, pesky hairs from shedding won't cling to the sofa, making lighter work of vacuuming as opposed to a fabric sofa. In addition, choosing a faux leather sofa can eliminate or significantly reduce pet odours. This is especially useful if you've got more than one dog.