Armchair
Chaise Longue
Love Seat
Faux Leather Armchairs
The faux leather armchairs are a rich chestnut - a traditional light brown that mirrors real leather perfectly. The armchairs come in six styles designed for any home, room or interior. From traditional to contemporary, modular to staple, timeless to mid-century. There is an armchair style in faux leather for everyone.
As good as the real thing, try it for yourself.
Why do we love faux leather? It looks and feels real. It mirrors leather without the use of animal hides. It's cheaper to make and buy - yet has a similar texture and grain pattern. Faux leather is also resistant to wear and tear and very low maintenance. What is there not to love? Try it for yourself, order a swatch box today.
Order your free swatch box today
Brown Leather Armchairs with Quick Delivery
The brown leather armchair collection is part of our made to order service. So, delivery is quick. Quicker than you you can say "leather loveseat", but not as quick as our core range. When you order a faux leather armchair, it will arrive within 10 working days.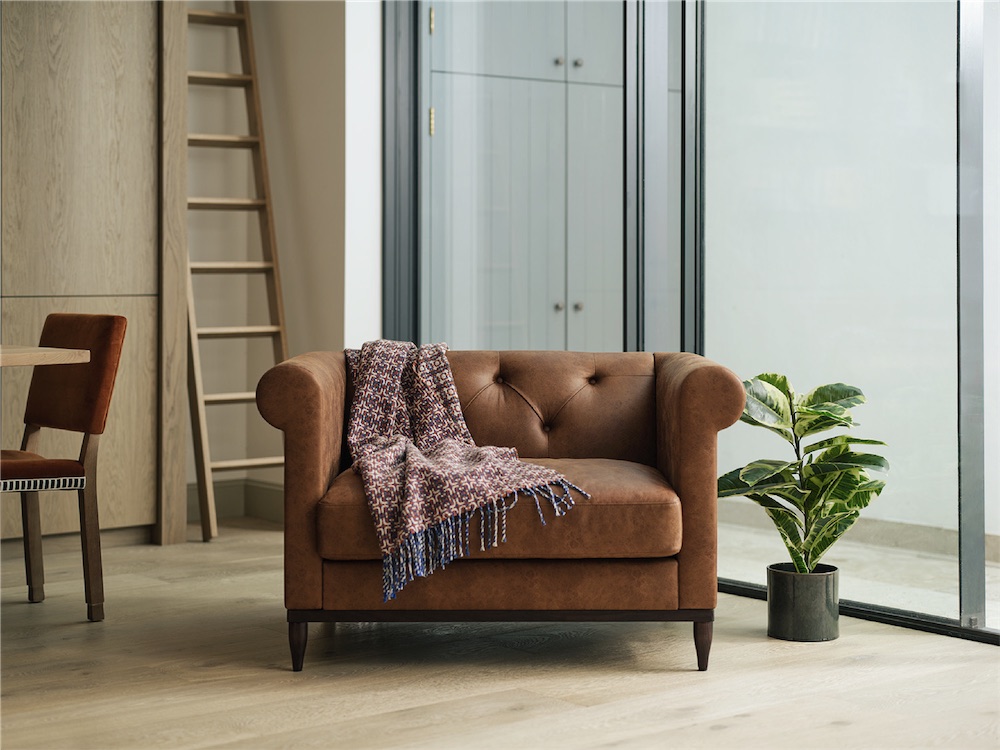 Leather loveseat
Our leather loveseat collection is an ideal choice for those looking to put their feet up in the comforts of chestnut faux leather. Our loveseat designs are versatile and guaranteed to fit into most interiors or spaces.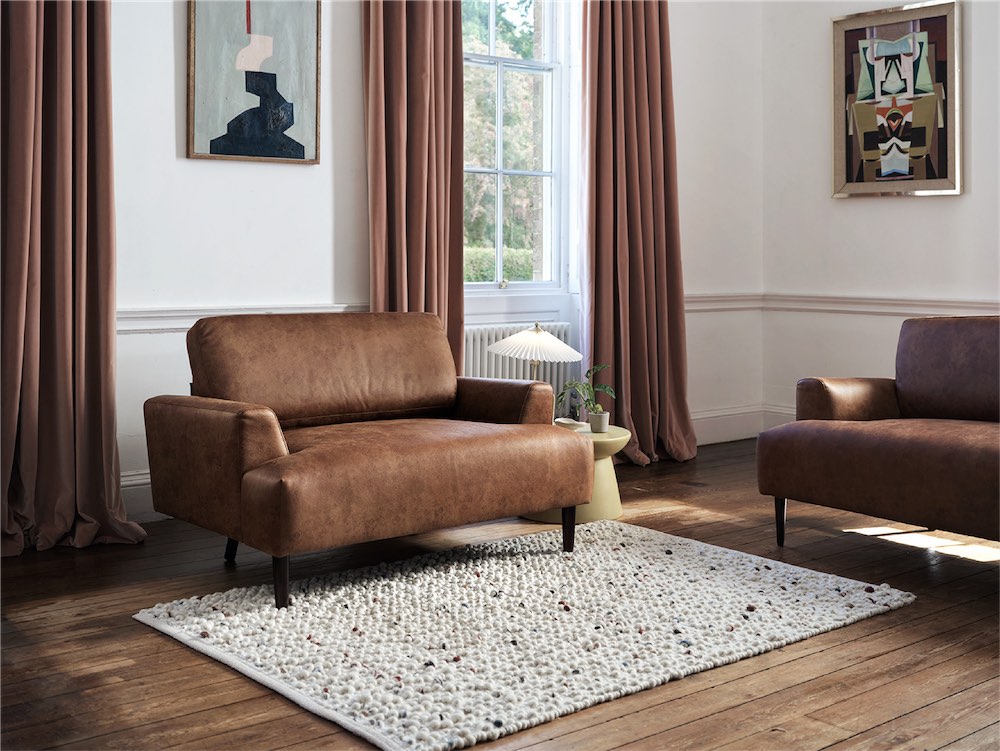 Free 24 hour
delivery
Delivered when
you want
100 day
trial
Faux Leather Armchair FAQs
Still have questions? Read our leather armchair faqs:
Is faux leather good for an armchair?

Faux leather is perfect for an armchair. Faux is typically longer lasting and more resistant to scratches than the real thing. It doesn't use animal products, is low maintenance and looks great in any interior. Depending on placement, it can either be a statement item or hide, comfortably, in the shadows.

Do I need to match my leather armchair to my couch?

You do not need to match the leather armchair with your sofa. In fact, we would advise against it. If you want to add focus and balance to your room, make sure the sofa is a different colour to the armchair. Matchy matchy isn't always a good thing.

How long do faux leather chairs last?

We use the industry standard Martindale abrasion test to make sure all our faux leather armchairs stand the test of time. Boasting a score of 45,000, you can be confident in the knowledge that Swyft faux leather armchairs and loveseats will hold up to whatever life throws at them.

What cushions go with a leather armchair?

To create a sophisticated look, choose neutral colours like taupe, cream, off-greys. Warm browns, oranges and any earthy tone will help create a cosy environment. Whereas, cushions with contrasting colours are guaranteed to make a statement.

Can I mix leather and fabric in a living room?

Combining colours and textures in a room adds visual interest. There should be no limitations when it comes to mixing materials. If anything, we'd encourage it. Ensure there's a dominant material running throughout and that the colours are balanced.