Armchair
Chaise Longue
Love Seat
Please select your fabric
Boucle
Cotton
Eco Recycled Velvet
Mottled Velvet
Royal Velvet
Velvet
Wool
Green Armchairs
Put together a feature corner with a statement green armchair that'll complete your stand-out look. Discover the best combinations of armchairs to go with your sofa style - whether you match them or style them with contrasting colours is up to you.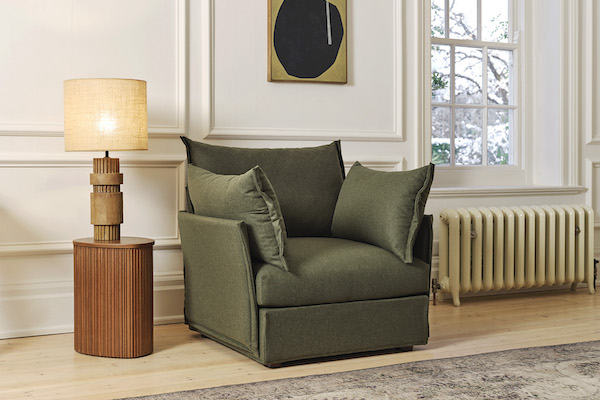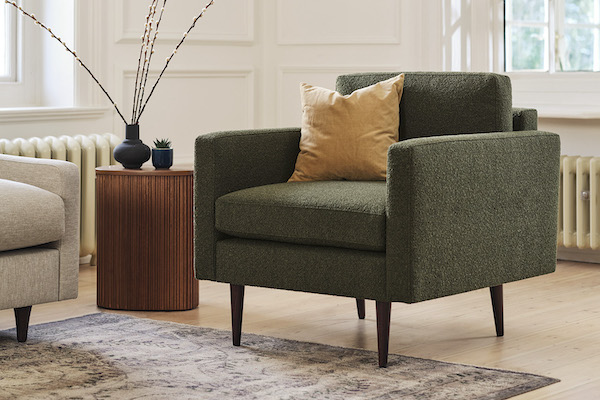 Green Velvet Armchairs
Vine velvet's our most popular fabric - and for good reason. Complete your ideal living room look with armchairs in this bold colour for the ultimate style statement that's bang on trend. This short-pile fabric combines a soft-to-touch feel with durability. Feel this ever-popular green velvet fabric for yourself by ordering a swatch box.
All Velvet Armchairs
Green Accent Chairs with Quick Delivery
We think you shouldn't have to wait for your perfect armchair. Get green accent chairs with quick delivery in as little as 24 hours. Spend less time waiting for delivery, and more time stretching out.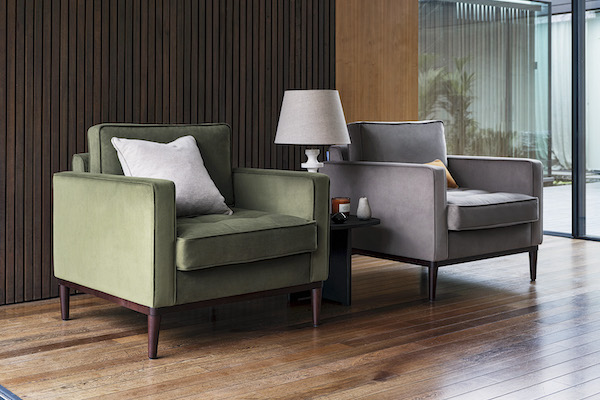 Green Loveseats
Cuddle up or stretch out solo on a green loveseat. Use your loveseat in a cosy corner, or make it part of the room by contrasting it with a sofa in a different colour. Our green loveseats add the perfect stand-out feel to living rooms, hallways and bedrooms, offering up the perfect place to relax.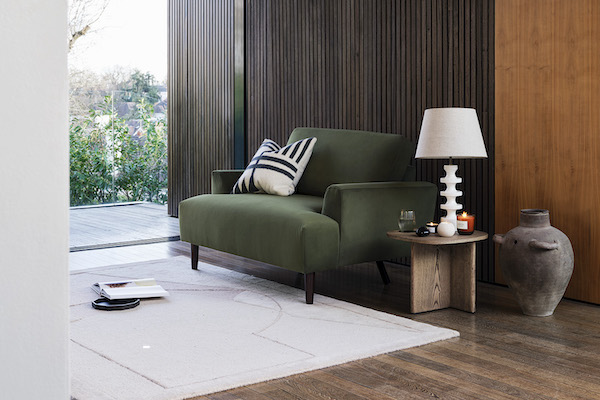 Free 24 hour
delivery
Delivered when
you want
100 day
trial
Green Armchair FAQs
Got a question? Here's our FAQs on green armchairs.
What goes with a green accent chair?

For fans of bold style statements, contrasting your green accent chair with equally exciting colours works well. Try experimenting by placing your green armchair against pink peach or yellow lemon walls, if you're feeling brave. For a more toned-down look, opt for a lighter or darker shade of green on the walls to make the room feel effortlessly put together. Green also works with neutral shades, so explore what's right for you.

Which colour contrasts best with green?

Refer to a designer's colour wheel when decorating with green. For the best contrast, this natural yet bright shade works best with either warm reds, or cooler neutrals. Consider the size of your room and the impact painting will have before committing to one colour. You may want to mix and match.

Can accent chairs be same colour as my sofa?

Yes - accent chairs can be the same colour as the sofa. To make sure they're still a feature, you should think about where they're placed within the room. Accent chairs usually sit in corners, at an angle. This provides a cosy spot for reading, chilling, and socialising. Green accent chairs work well with the same or similar shades of green sofas.

Are green armchairs on trend?

Green armchairs are definitely on-trend and seeing no signs of slowing down. At Swyft our all-time most popular colour is green, and we're big fans of it too. Green is a versatile colour that fits into most interior decor palettes and styles and is likely to stay on-trend for years to come.

Are green armchairs old fashioned?

Green armchairs aren't old-fashioned and out of style. In fact, they take their colour from mid-century styles which have been timeless enough to still be popular in homes today. Investing in a green armchair is a great choice for modern and contemporary homes.