Armchair
Chaise Longue
Love Seat
Please select your colour

Blue
Cream

Green

Grey
Red
Chenille Armchairs
Chenille armchairs are part of our Made to Order collection. A good alternative to velvet, chenille armchairs come in five colours ranging from off-white, blues and deep reds. A chenille armchair is the perfect way to add a touch of personality to your room, or to complement a neutral environment.
Is Chenille a velvet?
No chenille is not velvet. The two fabrics are manufactured in different ways. In French, Chenille means 'caterpillar' because the fabric is weaved to look like a caterpillar. Velvet, however, is cut to make a finish that is extremely soft-to-touch.
Velvet Armchairs
Chenille Loveseats
A chenille loveseat is a perfect alternative to a chenille armchair. Enough space for two people, but the size of a 1.5 seater. Enjoy an evening of novel escapism or a curled up cuddle with a loved one. Chenille loveseats come in a range of colours and designs, perfect for any room or interior.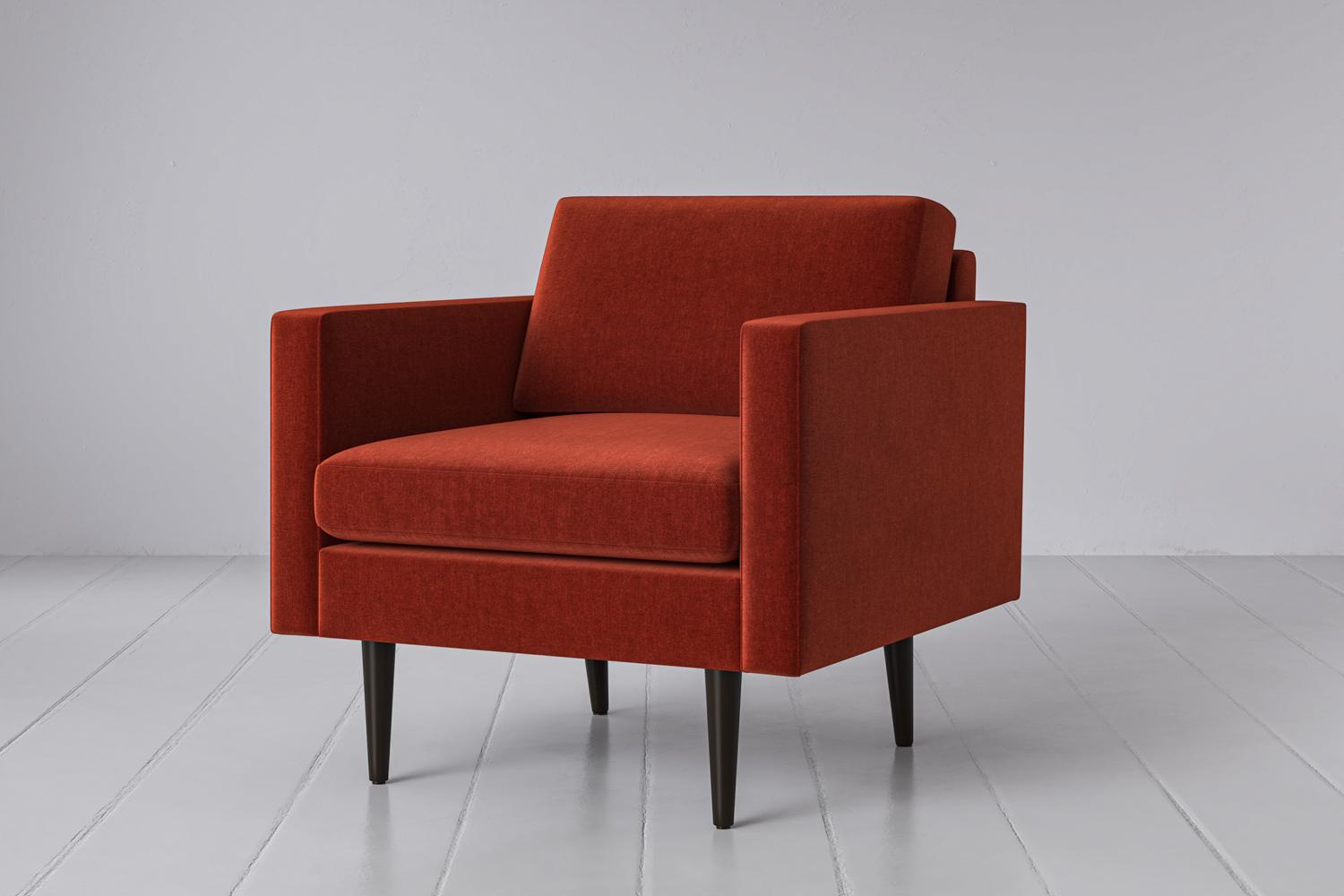 Chenille accent chairs with free delivery
Chenille accent chairs not only come with free delivery, but have 100 days free return. That means, you have 100 days to decide whether chenille is for you.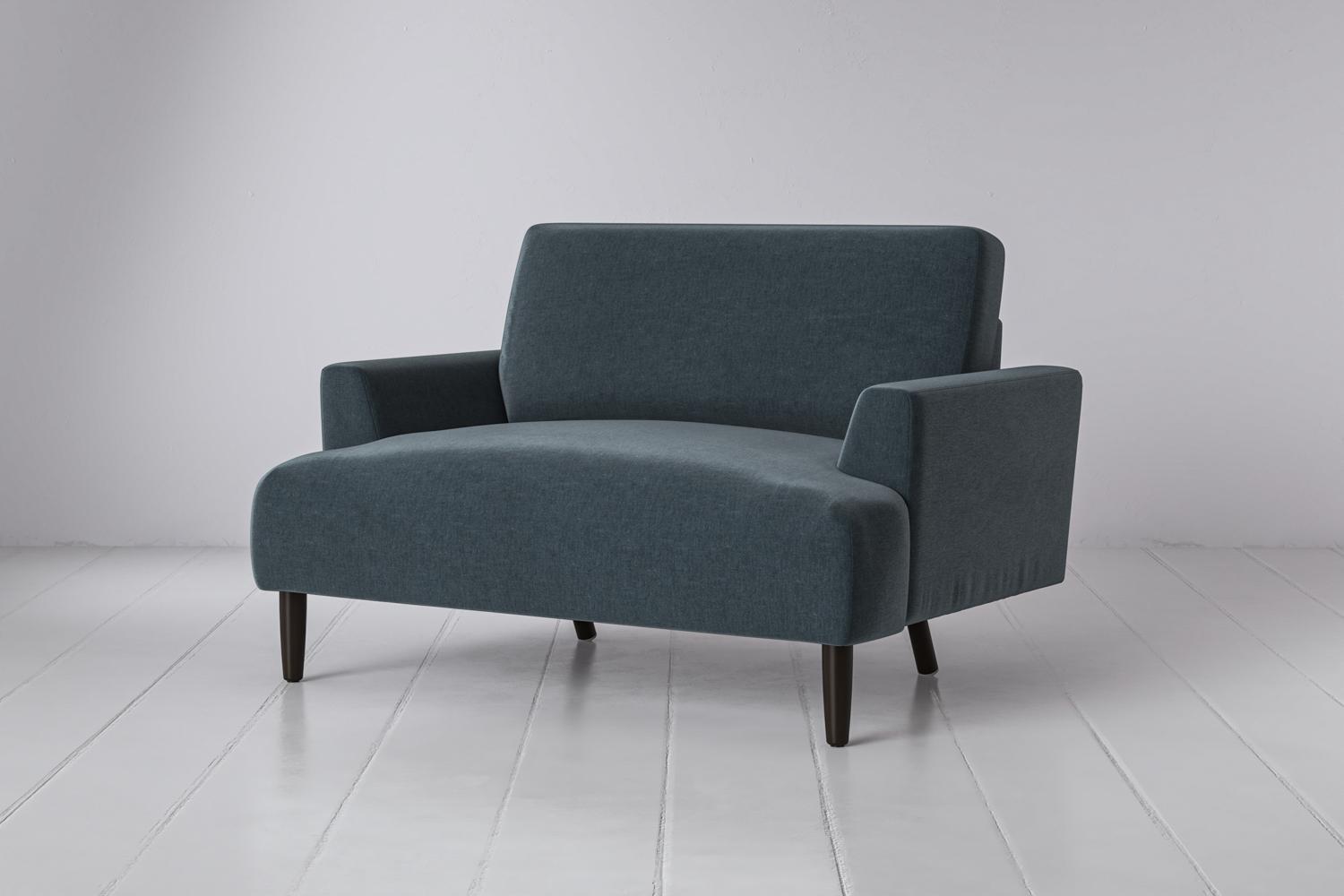 Free 24 hour
delivery
Delivered when
you want
100 day
trial
Chenille Armchair FAQs
Continue scrolling for all of your chenille questions answered.
Is Chenille Good For Furniture?

Chenille is a great choice for furniture, especially upholstered pieces like sofas, armchairs, ottomans, footstools. It's a fabric that looks good, is durable, versatile and comfortable.

Is Chenille The Same As Velvet?

No. Both Chenille and Velvet are seen as plush, soft-to-touch and luxe, but there are key differences in appearance, fabric construction and the materials used. Velvet is made by weaving two threads together and cutting them apart. Chenille, on the other hand, uses yarn that is woven into tight loops, creating a soft feel.

Can You Clean Chenille Armchairs?

Yes, you can clean chenille armchairs, but you have to be careful to make sure you don't ruin the fabric. Hoover regularly to remove any dirt or dust. Blot clean if any liquid is spilt onto a chenille armchair. Move the armchair away from direct sunlight and flip the cushions to ensure there's even wear.

Are Chenille Couches Durable?

Chenille has a tight weave which means it is naturally durable and holds together well against everyday wear and tear of a sofa. However, it does require more maintenance than a typical upholstered sofa. Chenille can't be machine washed and will need to be cleaned professional or spot cleaned. We'd recommend looking at our Emmiera Furniture Protection.

What are the advantages and disadvantages of chenille fabric?

Much like other fabrics, chenille has its own advantages and disadvantages. Chenille is a soft and comfortable fabric that's incredibly soft-to-touch. Chenille is durable, versatile, looks great and is a warm material.



Chenille's disadvantages, however, are that it can be expensive, heavy, requires special care to keep its softness and it can shed, creating tiny balls of fluff.