Armchair
Chaise Longue
Love Seat
Please select your colour
Cream

Green
White
Boucle Armchairs
Boucle armchairs guarantee a cosy, comfort reading nook that boasts sophistication and elegance. A collection of armchairs that fits contemporary and traditional interiors equally. Boucle is a textured fabric that has an incredibly soft-finish and a tactile feel, the perfect fabric for your armchair
Order a swatch box and feel boucle for yourself
Not sure about boucle, or never felt the fabric before? Why not order a free swatch box and have a feel for yourself. Boucle's texture is a fabric that must be touched first, it's beautifully tactile.
Order free swatch box
White Boucle Armchairs
White boucle armchairs offer an incredibly elegant and sophisticated look. With tones of Scandinavian, a white boucle armchair will promote a fresh, bright interior that boasts a comfortable and cosy texture. Ideal for afternoons spent in novel escapes.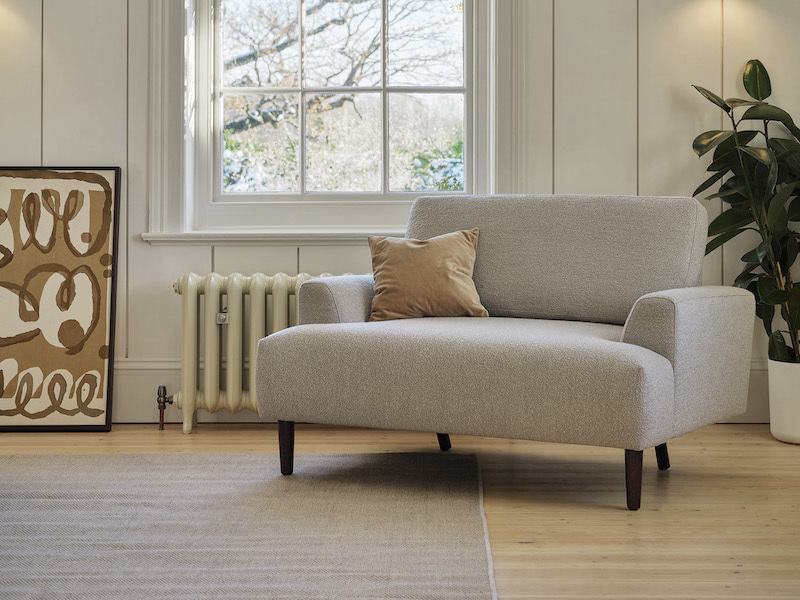 Free 24 hour
delivery
Delivered when
you want
100 day
trial
Boucle Armchair FAQs
All of your boucle armchair questions answered
What are the benefits of boucle armchairs?

The process of how the fabric is weaved results in a comfortable texture and cosy feel. Boucle is a fabric that continues to offer beautiful aesthetics, creating an inviting and sophisticated look. Boucle is a fabric that is always on-trend, so it won't go out of fashion (we hope). It's also hard-wearing and holds up well to heavy use, which makes it a worthy investment piece.

How do I care for a boucle armchair?

Maintaining a boucle armchair is a similar process to other fabrics. Vacuuming regularly to remove dust is a must, avoid direct sunlight if possible – with all fabrics colour fading is unavoidable if put in front of natural light –, and cleaning spills immediately by blotting the fabric with a damp cloth to avoid stains.

Are boucle armchairs in style?

Boucle armchairs offer a luxurious and elegant look whilst providing a tactile texture and feel. Because of this, it's a popular fabric used in the interiors industry and in people's homes. It beautifully pairs comfort and sophistication, creating a unique aesthetic.

What colour is best for a boucle armchair?

The best colour for a boucle armchair really depends on your interior's colour scheme. Boucle in neutral colours has been a trend for many years, and continues to be so. It offers a calm yet sophisticated aesthetic to a room. Pastel colours follow a similar look and feel, lifting a room l with its tactile texture. That being said, dark colours like charcoal or navy will contrast against a neutral colour palette, creating stand-out statement pieces.

How much will a boucle armchair cost?

At Swyft, our boucle armchairs cost in the range of £795 – £1,495. Due to its lux and sophisticated look, and texture, boucle armchairs are more expensive than other fabrics