Armchair
Chaise Longue
Love Seat
Please select your fabric
Eco Recycled Velvet
Linen
Mottled Velvet
Royal Velvet
Suede
Velvet
Blue armchairs
Discover blue armchairs in styles for every interior look. Shop all shades to find an armchair you'll love.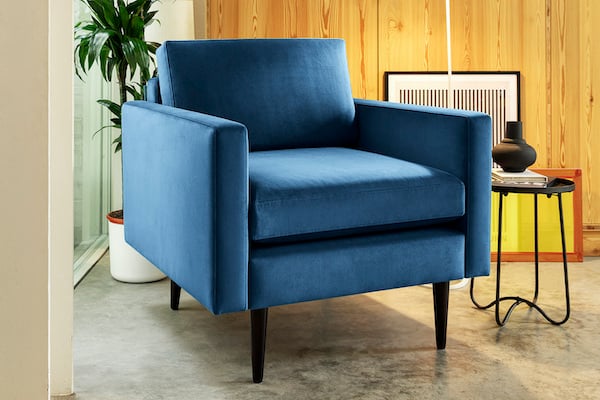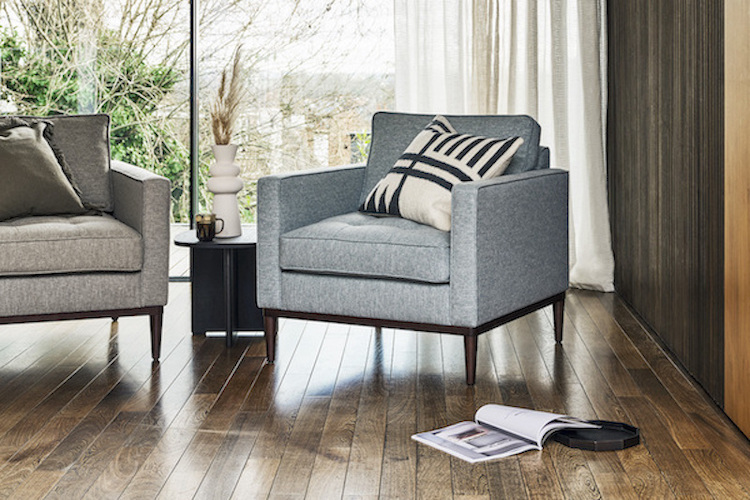 Dark, Navy or Light Blue Accent Chairs
It's time to get decorating. Make a bold style statement with blue velvet armchairs, or take a toned-down approach with light blue accent chairs. Get your hands on a free fabric swatch box and start planning your living room upgrade.
Order your free Swatches today
Blue Velvet Armchairs
Let's talk comfort. Sit back and relax on an unbeatably soft blue armchair. Choose from a range of finishes and textures in chenille, eco velvet, royal velvet or keep it simple with our core range velvet.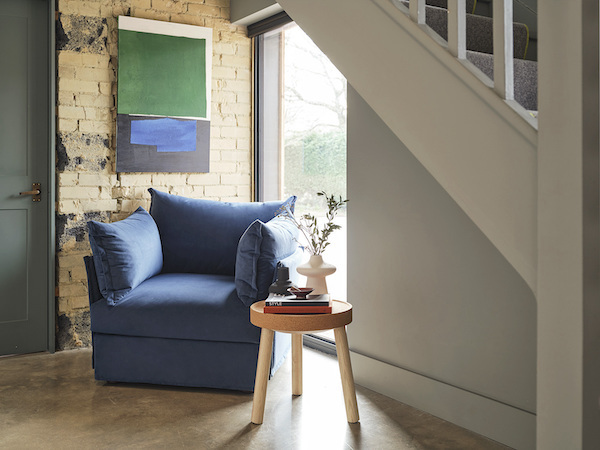 Blue bedroom chairs
Armchairs don't just belong in living rooms. Add an accent chair to your bedroom space for relaxed reading and feet-up moments. Choose blue armchairs for a calming bedroom style statement.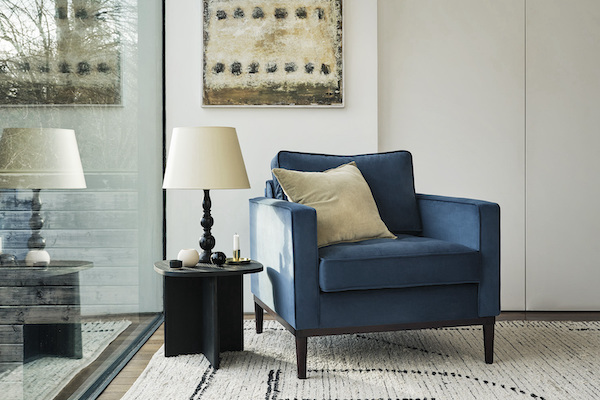 Free 24 hour
delivery
Delivered when
you want
100 day
trial
Blue armchair FAQs
Got a question about blue armchairs?
What goes with dark blue chairs?

Decorate two ways with dark blue chairs. Pair dark tones of navy and midnight with light tones in duck-egg blue walls. For a bolder statement, use accents of mustard yellow when styling dark blue armchairs.

Is blue a good colour for an accent chair?

Although blue is a cool-toned colour, it's still versatile enough as a choice for armchairs. This makes for easy styling as blue accent chairs work either with other cool tones or warm, richer colours.

What colour goes with blue velvet?

When choosing a blue velvet armchair, colour combinations are important. Experiment with warm-toned neutrals if you want the chair as a feature. For a different, dramatic look, pair blue velvet furniture with rich greens.

Should accent chairs be a different colour?

Accent chairs will work in the same colour as your sofa if that's your preference. However, by choosing an accent chair in a different colour, you'll bring more interest to the space. Visually, accent chairs look best when they're a different colour to your main sofa. Read about mix and matching sofas and armchairs here.

Do my armchair and ottoman need to match?

This one's totally up to you. If you prefer a matching armchair and ottoman, make sure your sofa is a different colour to keep the room feeling contemporary and up-to-date. For a stand-out look, we'll always vote for contrasting your armchair and ottoman in different colours.