Modern black armchairs
Armchairs can often look a tad tired, but no more. We have designed a collection of impressive modern black armchairs that use the softer shade of charcoal, a more versatile and contemporary black.
Go bigger with black sofas
Who said no to black sofas? In a neutral setting, a large black sofa will be a standout statement piece. Cleverly placed and coloured accessories, lighting and wall decor means a large black sofa will add focus and ambience.
Black Sofas
Black accent chairs for any style
From mid-century to bold and curvaceous; timeless and tailored to classic and contemporary, our black accent chair styles are designed to fit into any home, no matter the interior.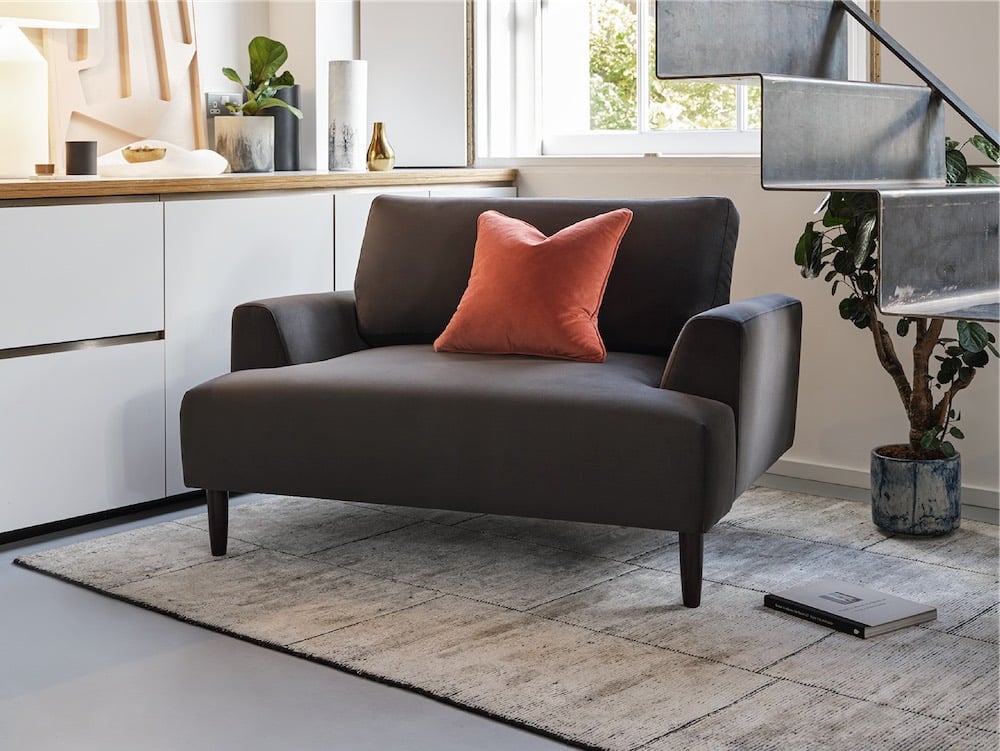 Black velvet armchairs
Black velvet is bold, but beautiful. Our black velvet armchairs are soft to touch and have a depth of charcoal that is effortlessly stylish. They are also low maintenance, stain-resistant and made to last. Black velvet armchairs are a guaranteed subtle statement piece.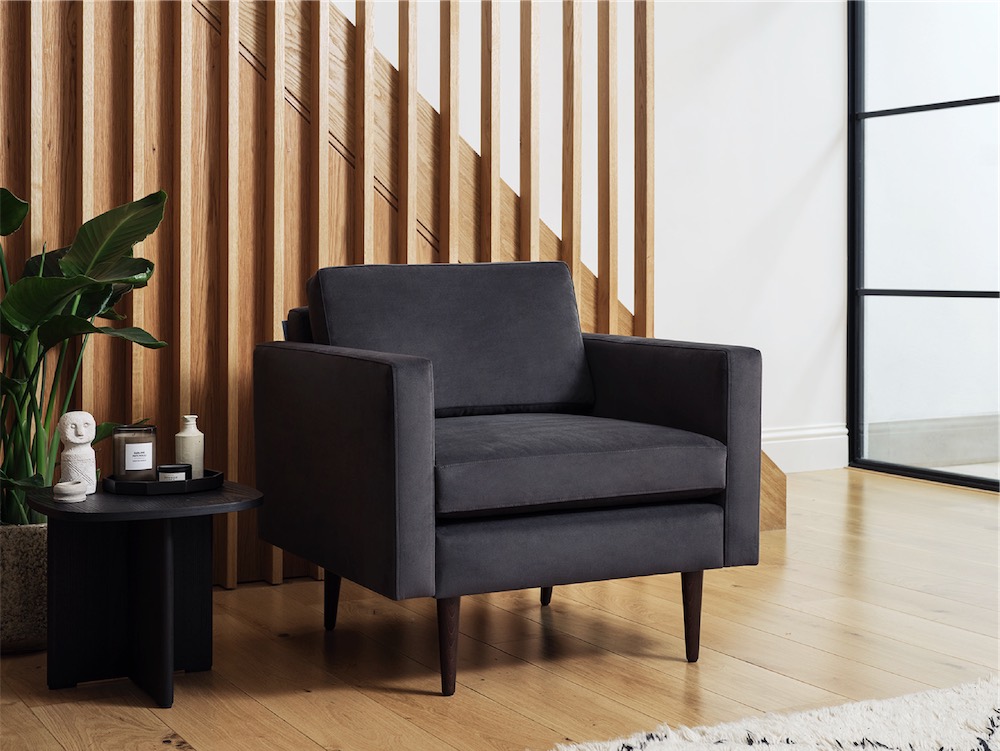 Free 24 hour
delivery
Delivered when
you want
100 day
trial
Black Armchair FAQs
Here's everything you need to know about our collection of black armchairs.
What compliments black armchairs?

Contrast a black armchair with neutral colours. Use white or cream coloured accessories; cushions, throws and living room decor. Natural textures not only create a cosy and comfy environment, but an appealing asthetic. Balance dark shades of black with natural light and cleverly placed lighting.

Are black armchairs masculine?

Traditionally black, or darker tones, have been connected to masculinity. Whereas, lighter and pastel colours are usually associated with feminity. However, gender and its relationship with colour, especially black armchairs, is subjective and down to the individual. A black armchair can help bring a room together and can transform a space, masculine or not.

How can I brighten my living room with black furniture?

Brighten up a living room by using colours that contrast black furniture. Accessories should strictly be neutral; cream, white and light grey. Neutral cushions and throws, for example, will act as a natural lift. Use floor lighting and shelf lamps to create the illusion of a lighter space. If possible, natural light will also brighten a space heavy in black furniture.

How do you make black furniture look cozy?

Create warmth and comfort with natural textiles – knitted throws and blankets, plush cushions, and lighting are the three key pillars to get the perfect ambience. Consider well placed table lamps, floor lamps, and string lighting, alongside wall art and wooden coffee and side tables. Combine all of the above and it's guaranteed to bring the room together, and, make black furniture look cosy.

Is black furniture warm or cool?

Cooler colours are associated with blues, greys and, yes, blacks. So, black furniture is cool. Warmer colours are natural, reds, oranges, browns and whites.